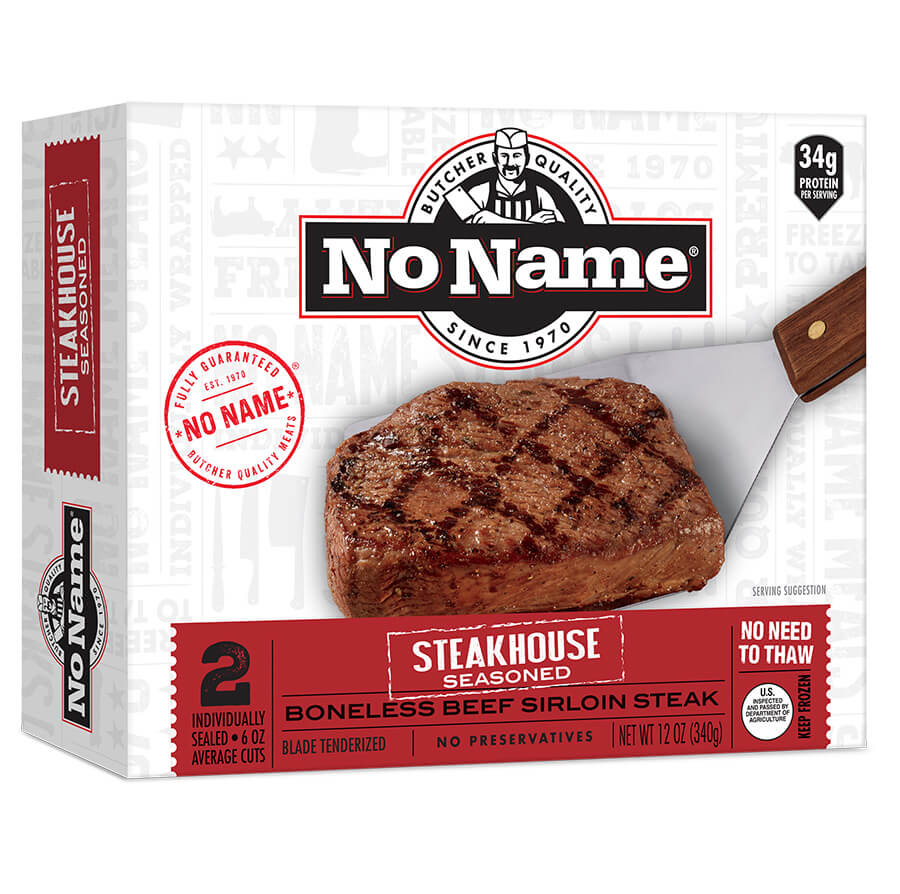 No Name® Steakhouse Seasoned Sirloin 12 oz.
Our No Name® Steakhouse Seasoned Sirloin steaks are hand cut and trimmed boneless sirloin. Each  flavor packed steak is dry rubbed and tumbled with our Signature Steakhouse Seasoning. These steaks are individually vacuum sealed for maximum freshness & convenience.
Where to buy
STEAKHOUSE SEASONED SIRLOIN
INGREDIENTS: BEEF, SEASONING (MALTODEXTRIN, SALT, SPICES, DEHYDRATED ONION AND GARLIC), OIL BLEND (CANOLA OIL, EXTRA VIRGIN OLIVE OIL).
Cooking Instructions
Preheat 10 min. on HIGH
Remove from plastic wrap
Grill on Medium Heat
GRILL
Defrosted: 12-15 minutes
Frozen: 23-26 minutes
FLIP AT LEAST ONCE
BROIL
Preheat broiler to 500°F
Remove steaks from plastic
Place on broiler pan 3-4 inches from heat

Defrosted: 16-19 minutes
Frozen: 23-28 minutes
Flip steaks half way through cooking
STOVE
Preheat non-stick skillet with 1 tsp. oil
Remove steaks from plastic
Cook over medium heat

Defrosted: 19-23 minutes
Frozen: 30-35 minutes
Flip steaks several times while cooking
Cooking times may vary due to variability of appliances and grills. Meat should be cooked to an internal temperature of 145˚F with a 3 minute rest time or an internal temperature of 160˚F must be achieved. Both internal temperatures measured by use of a thermometer.