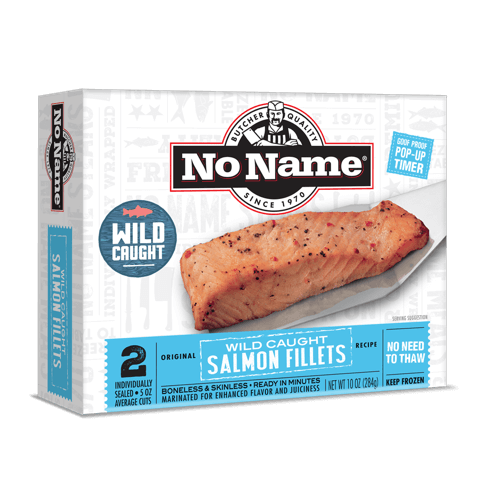 No Name® Wild Caught Salmon Fillets
These ideally sized 5 oz. wild caught Keta salmon filets feature our original recipe marinade and a unique pop-up timer that makes the perfect preparation goof-proof.  See below for No Name® Wild Caught Salmon Filet recipes.
Where to buy
Salmon
INGREDIENTS: FISH, SALMON, WILD CAUGHT FILET, OIL BLEND (CANOLA OIL, EXTRA VIRGIN OLIVE OIL), WATER, SEASONING (SALT, SPICES, DEHYDRATED GARLIC, PAPRIKA, DEHYDRATED ONION, YEAST EXTRACT, DEHYDRATED RED BELL PEPPER, CITRIC ACID, GRILL FLAVOR (FROM SUNFLOWER OIL), NATURAL FLAVORS, SMOKE FLAVOR).  CONTAINS FISH.
GENERAL
Preheat to 400˚F
Remove from plastic wrap
Bake uncovered in baking pan
BAKE
Place in oven and bake according to times listed below.

Defrosted: 15-20 minutes turning once until pop-up timer pops up
Frozen: 25-28 minutes turning once until pop-up timer pops up
GRILL
Pre-heat grill to medium heat
Remove salmon from plastic wrap
Place salmon on cooking grid
Cook according to times below

Defrosted: 8-12 minutes turning once until pop-up timer pops up
Frozen: 12-16 minutes turning once until pop-up timer pops up
STOVE
Preheat non-stick skillet to medium low heat
Remove salmon from plastic
Place salmon in skillet
Cook according to times below

Defrosted: 12-15 minutes turning once until pop-up timer pops up
Frozen: 15-18 minutes turning once until pop-up timer pops up