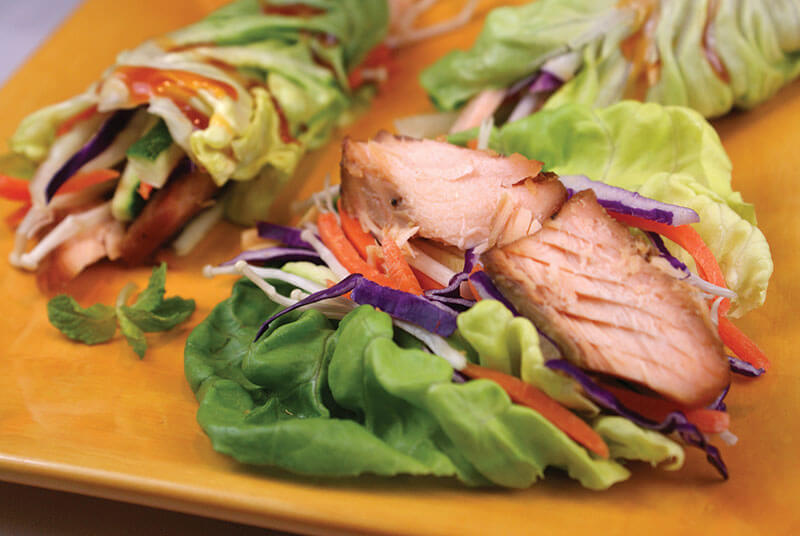 No Name® Salmon lettuce Wraps
Cooking Directions:
Bake No Name® Original Salmon according to package directions.
While the salmon is baking, make the following sauce:
1/2 cup of ketchup.
1/2 cup of granulated sugar.
1/4 cup of white vinegar
1/4 cup of Pineapple Juice
Salt and black pepper to taste.
Mix all of the ingredients together. Bring the mixture to a boil. Reduce the heat and simmer for 8-10 minutes until the mixture starts to thicken. Cool slightly before using with the lettuce wraps.
Cut the cooked Salmon into four equal portions.
Wash the lettuce leaves and pat them dry.
Open a leaf of lettuce and place a small amount of each of the vegetables in the center of the leaf. Place a portion of the salmon on top of the vegetables. Roll the lettuce leaf up like an egg roll. Drizzle a little of the sauce over each leaf or use the sauce for dipping.
Ingredients:
1 pc No Name® Original Salmoon
1 head of Bibb or Butterhead Lettuce
Red Cabbage
Shredded Bean Sprouts
Carrots – cut into very thin strips
Cucumber – cut into thin strips
Enoki Mushrooms
1/4 cup of Ketchup
1/2 cup Granulated Sugar
1/4 cup White Vinegar
1/4 cup Pinapple Juice
Salt and Black Pepper