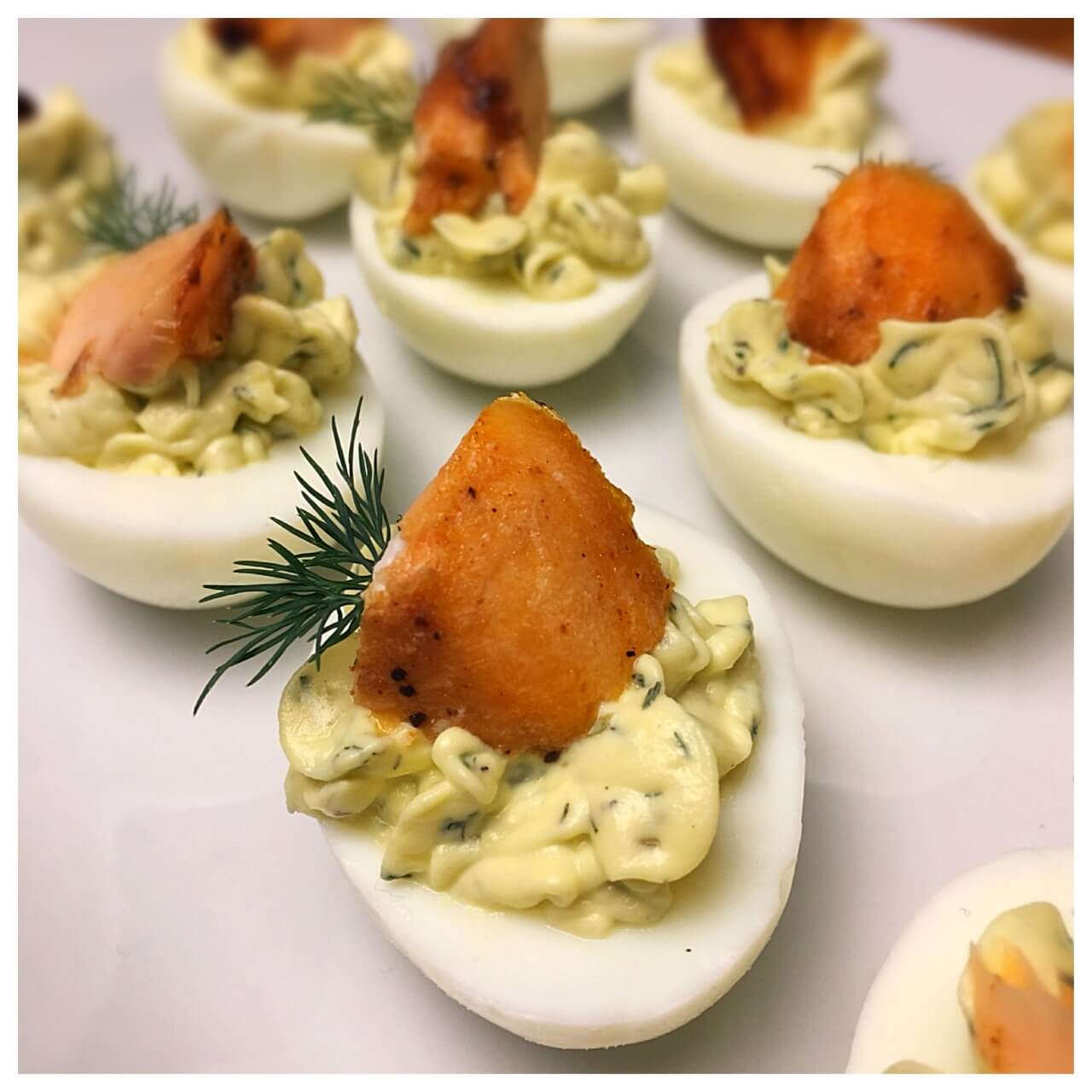 Classic Deviled Eggs with No Name® Brand Salmon
Notes: Salmon and eggs are a classic pairing from French cuisine! What better inspiration is there when looking to elevate the humble (but tasty!) Devilled Egg?  These tasty little treats are easy to make and have an elegant, gourmet twist on this picnic classic thanks to No Name Brand Salmon Filets. Minimize your time in the kitchen by purchasing pre-hard-boiled and peeled eggs at the grocery store.  You will be on your way to an impressive appetizer in no time with No Name!
Salmon Preparation: 1 filets, cooked via the oven as instructed on the package.  Cool the salmon.
Cook the salmon according to package instructions.
In a bowl, flake half of the salmon filet into slam pieces. Reserve the other half for garnish.
Add the egg yolks, dill, onion, capers, pickle and salt and pepper to the bowl and mix together until well incorporated.
Fill the egg white halves with about 1-2 tsp of the yolk mixture.
Garnish each filled egg with an attractive piece of remaining cooked No Name Brand Salmon Fillet and a fresh piece of dill.
Enjoy!!!
(serves 12 appetizer servings)
Ingredients
6 each Hard-Boiled Eggs, peeled and chilled and cut in half lengthwise, whites and yolks carefully separated
1 tbsp. Fresh Dill, chopped finely
2 tbsp. Red Onion, chopped finely
1 tbsp. Non-Pareil Capers, drained and chopped finely
2 tbsp. Dill Pickle, chopped finely
¼ Cup Sour Cream
¼ Cup Mayonnaise
Salt and Pepper to your liking
1 each No Name Brand Salmon Filet, baked, and cooled.