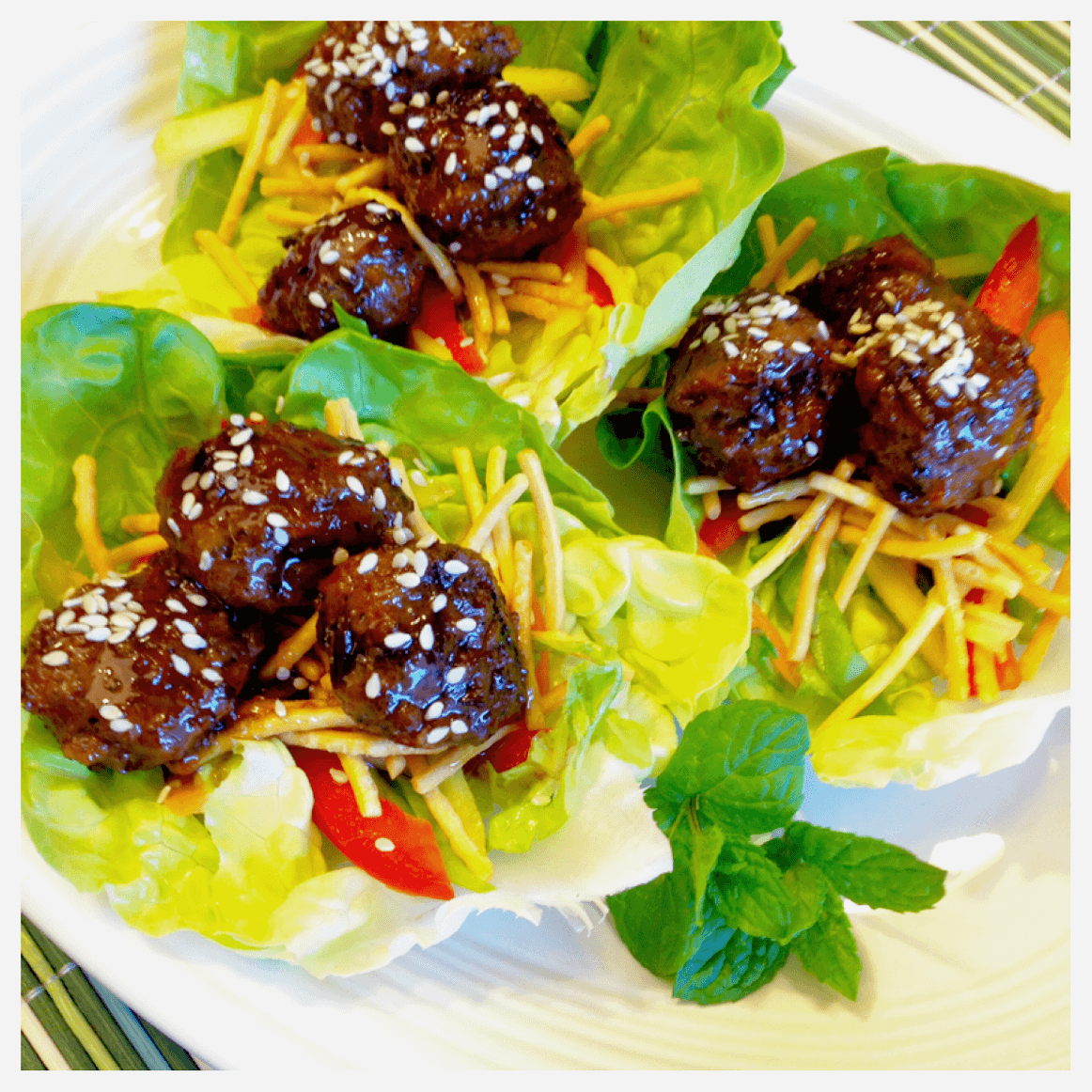 No Name® Asian-Style Wild Rice Meatball Lettuce Wrap Appetizer
Directions:
No Name® Wild Rice Meatballs
Place the No Name® Wild Rice Meatballs and your favorite sauce in a 9x 13 baking dish and stir to coat the meatballs. Place in a 425 degree oven until meatballs are 165 degrees internally and sauce is thick and bubbly.
Assemble the Lettuce Wraps
Remove the leaves of the lettuce and wash.  Pat dry and place the leaves on a plate. Place the vegetables in the lettuce cups and top with the warmed Wild Rice Meatballs. Drizzle with extra sauce. Enjoy!!!
General
A quick and cooling first course is ready in no time with No-Name Wild Rice Meatballs and some pantry basics.  These make an impressive appetizer on a buffet or a fantastic first course for guests.  Easily Make them into a meal by adding some steamed rice.  You can vary the vegetables by using anything that ends up in your crisper drawer.  Easy, fast and flavorful!
Serves 2-4
Reheat No Name® Wild Rice Meatballs according to recipe instructions
Ingredients:
Meatballs
1 pkg No Name® Wild Rice Meatballs
1 bottle Teriyaki Glaze (change it up with your favorite sauce: Korean Bulgogi, Sweet and Sour, Hoisin Sauce – it will all be delicious!)
Lettuce Wraps
1-2 Heads Boston Bibb Lettuce
Suggested Toppings – Pick your Favorites!

Sliced Red Peppers
Sesame Seeds
Sliced Cucumbers
Shredded Cabbage
Sliced Red Onion
Cilantro
Sliced Mango
Shredded Lettuce
Bean Sprouts
Sliced Snow Peas
Crunchy Chow Mein Noodles
Green Onions