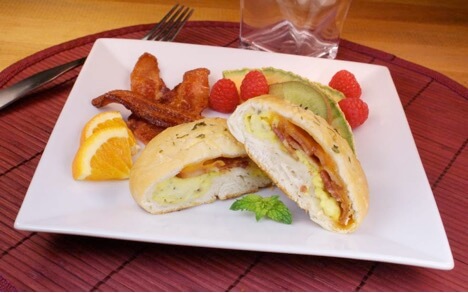 No Name® Bacon & Egg Pockets
Directions:
Cook the bacon according to package directions. Place the cooked bacon on a paper towel to absorb the remaining grease.
Roll out each piece of dough into a flat 6 inch circle.
In the center of each piece of dough,place the following ingredients:                                                                                                 ½ oz. slice of cheese; 1 slice of cooked bacon – cut into bite size pieces; and 1 cooked, scrambled egg.
Bring the edges of the dough together in the center of the egg mixture and pinch the dough together in the middle.  Flip the product over so the pinched part of the dough is on the bottom. Lightly brush the top of the dough with melted butter or olive oil and sprinkle with parsley and shredded cheddar.
Bake at 350 degrees for 15-17 minutes.
Ingredients:
1 pkg. (16.3 oz.) Refrigerated Biscuit Dough (8 pcs. of dough per package)
4 oz. Cheddar Cheese – cut into ½ oz . slices
8 strips No Name Hickory Smoked Bacon
8 Eggs – cooked, scrambled
2 oz. Shredded Cheddar Cheese
1 tbsp. Parsley – dry