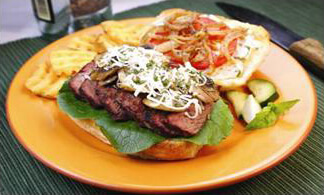 No Name® Filet of Sirloin Steak Sandwich
Directions:
Cook the Sirloin steak according to package directions.
While steak is cooking prepare the rest of the ingredients.
Mix basil mayo ingredients together.
Slice and saute the onions for 8-10 mins. until they start to brown nicely.
Slice and saute the mushrooms in a small amount of oil for 2-3 mins.
Let the steaks rest for several mins. the slice the steaks into thin strips.
Slice buns open. Optional – brush buns lightly with olive oil and toast them on the grill or on a flat skillet.
On the top portion of the bun layer the following ingredients – basil mayonnaise, tomato slice and onions.
Place the lettuce on the bottom portion of the bun and top with the steak slices, mushrooms and shredded cheese.
Makes 2 sandwiches
Ingredients:
1 No Name® Filet of Sirloin Steak 
2 Ciabatta buns or Steak Buns
3 tbsp. Basil Mayonnaise
1 small White Onion
3-4 medium size Mushrooms
2 Tomato Slices
2 tbsp. Shredded Italian Blend Cheese
2-3 leaves Bibb Lettuce (or other greens of your choice)
Basil Mayonnaise:
1/4 cup Mayonnaise
1 tbsp. Fresh Basil – chopped
1 tsp. Basil Pesto