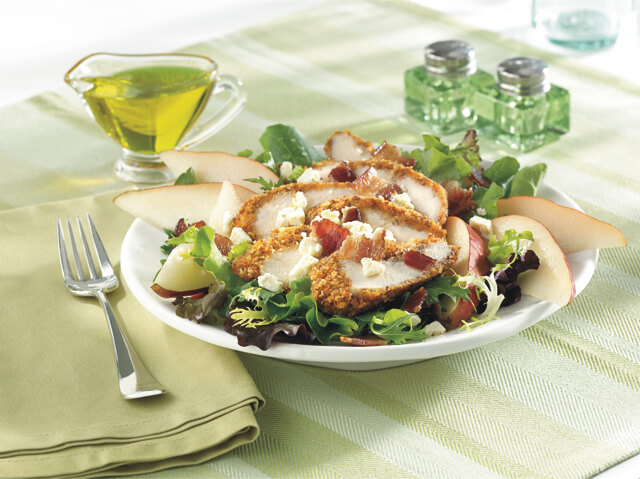 No Name® Pecan Crusted Chicken Salad with Pears and Bleu Cheese
Cooking Directions:
Bake the chicken according to the directions on the package.
While the chicken cooks, arrange the salad greens on 2 plates and fan out the pear wedges.
Slice the chicken into ¼ inch slices and arrange over salad greens.
Sprinkle bleu cheese and bacon over the chicken and drizzle with your favorite salad dressing.
Variations:
Other flavors of No Name® Chicken also make great salad toppers
When pears aren't in season, try some other fruits, like red grapes, apples, strawberry halves or cantaloupe cubes.
Serves 2   |  Preparation time: 5 minutes  |  Cooking time: 22-40 minutes
Ingredients:
2 No Name® Pecan Crusted Chicken Breasts
1 Pear (Bartlette or Anjou), ripe, cut into 12 slices, seeds and core removed
2 strips No Name® Thick-sliced Bacon, cooked, cooled and crumbled
2 tbsp. Bleu Cheese, crumbled
4 oz. Baby Salad Greens
2-4 oz. Bottled Salad Dressing (Balsamic, Italian or Raspberry Vinaigrette)