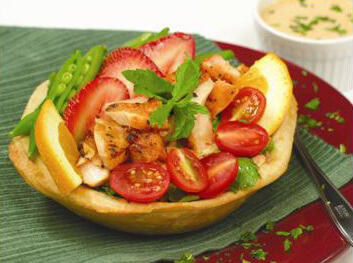 No Name® Salmon Bread Bowl Salad
Prepare the salad bowl:
Heat oven to 350 degrees.
Roll out each piece of biscuit to a flat circle (approx. 6 inches in diameter).
Place 8,  5 inch pot pie tins upside down on a baking pan.
Spray the tins lightly with non-stick cooking spray.
Place one piece of dough over each pot pie tin. Bake in over for approx. 12 minutes.
Remove from the oven and turn the tins right side up so you now have a bread bowl.
Let the bowls cool while you prepare the rest of the ingredients.
Arrange salad in the bread bowl.
Cut the cooked salmon lengthwise.
Place 1/2 of the salmon filet on top of the salad ingredients in each bread bowl.
Lightly drizzle with dressing.
Makes 2 salads
Ingredients:
1 No Name® Salmon Filet
1 cup Chopped Salad Greens
1 tsp. Fresh Mint chopped
1 Strawberry
4-5 Pea Pods
4-5 Grape Tomatoes
2 Orange Slices
Refrigerated biscuit dough (like Pillsburry® Grands Buttermilk Biscuits)
Prepared Raspberry Hazelnut Vinaigrette or Prepared Raspberry Vinaigrette