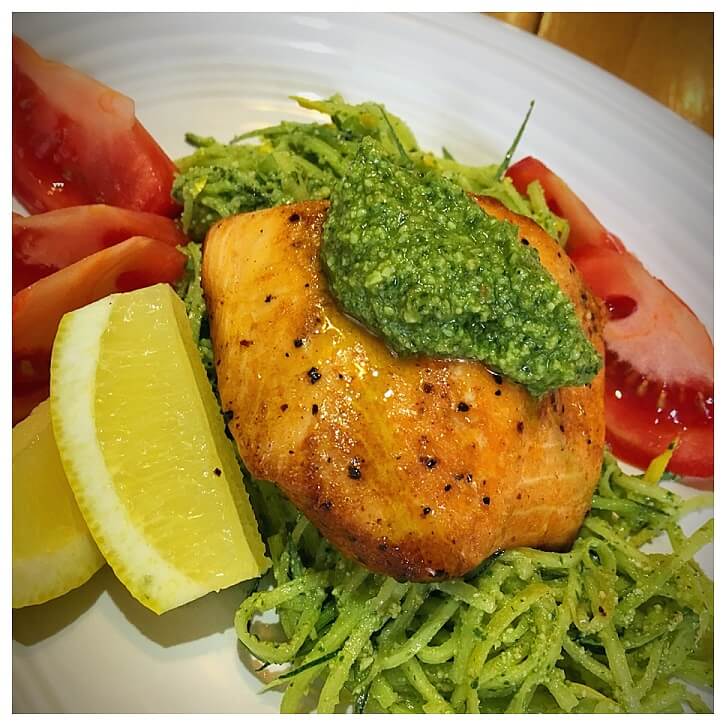 No Name® Roasted Salmon with Pumpkin-Sage Pesto "Zoodle" Salad
ZOODLES!!!  Eating Gluten Free?  Zoodles. Looking to up your fiber intake? Zoodles.  Watching Calories?  Zoodles. Enjoy tasty, healthy food? ZOODLES!  Noodles made from zucchini or yellow summer squash are a fantastic alternative to wheat pasta.  We call this a salad, because technically it is.  However, you may find that you don't miss the wheat pasta at all. Zoodles eat just like spaghetti and take Italian Flavors brilliantly.  Here, we pair zoodles with a bright and lemony Pumpkin Seed and Sage Pesto Sauce.  No Name Brand Salmon Filets taste fantastic with it too.  If you miss pasta, this recipe will be just dandy with the real thing. But give zoodles a try.  You'll be surprised how tasty eating healthy can be with No Name.
Finding Zoodles:
Look for spiral vegetable cutters in the kitchen wares section of most major retailers. It is easy to make zoodles at home out of zucchini or yellow summer squash with these small tools.  Many grocery stores are now carrying them as well! Find spiral cut zucchini in the cut vegetables case in your grocer's produce section.
No Name Salmon Filet Preparation:
Prepare your salmon filet in the oven according to package instructions.
Cook salmon filets according to package instructions.
When salmon is cooked, place zoodles in a bowl. Toss with Pumpkin Sage Pesto.  Use enough of the pesto to coat zoodles evenly, as if they were pasta.  Divide dressed zoodles in half and place in center of serving plates.
Place cooked salmon on top of the zoodles. Arrange tomato wedges around the salad.
Top the warm No Name Brand Salmon Filets with a dollop of the Pumpkin Sage Pesto.
Serve with lemon wedges and garnish with more Toasted Pumpkin Seeds, if desired.
Enjoy!
Pumpkin-Sage Pesto:
Place all ingredients into a food processor and blend until uniform.
Adjust seasoning, if necessary, after blending.
Left over pesto sauce can be frozen for future use!
Ingredients:
2 each No Name Brand Salmon Filets, cooked
1 recipe Pumpkin-Sage Pesto Sauce
1  vine ripe tomato, cored and cut into eight pieces
1  lemons, cut into wedges
4 cups Zoodles – zucchini, yellow summer squash or other
 Salt and black pepper to taste
Pumpkin-Sage Pesto:
1/2 cup green pumpkin seeds, toasted (Pepitas)
10 fresh sage leaves, chopped
½ cup, packed fresh Italian parsley leaves, chopped
2 garlic cloves, chopped
½ cup olive oil
½ cup parmesan cheese, grated
1 lemon, washed, zested and juiced
salt and pepper to taste