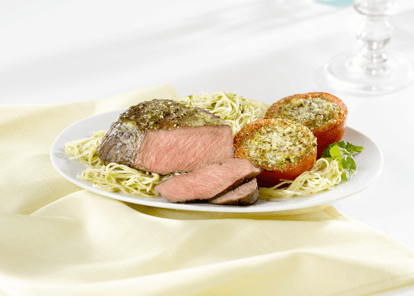 Broiled No Name® Steaks with Pesto Butter and Noodles
Directions:
Season the steaks with olive oil, salt and pepper and arrange on a baking sheet.
Broil steaks according to package directions.
Mix the pesto and butter together in a small bowl and set aside.
Boil the pasta, drain and toss with 6 tablespoons pesto butter.
During the last 5 minutes of broiling, add the tomatoes to the baking sheet.
Broil for 3-4 minutes, and then top the steaks with a dollop of pesto butter and brush the tomatoes with it also.
Broil 1 minute more and serve with the pasta.
Sprinkle Parmesan cheese over the pasta and tomatoes before serving.
Serves 4   |  Preparation time: 10 minutes   |  Cooking time: 16-27 minutes
Ingredients:
4 No Name®Steaks (choose your favorite cut), thawed
2 tbsp. Olive Oil
Salt and Pepper, to taste
½ cup Unsalted Butter, softened
¼ cup Prepared Basil Pesto
4 medium Tomatoes, halved
1 lb. Pasta, Linguini or Spaghetti
¼ cup Parmesan Cheese, grated