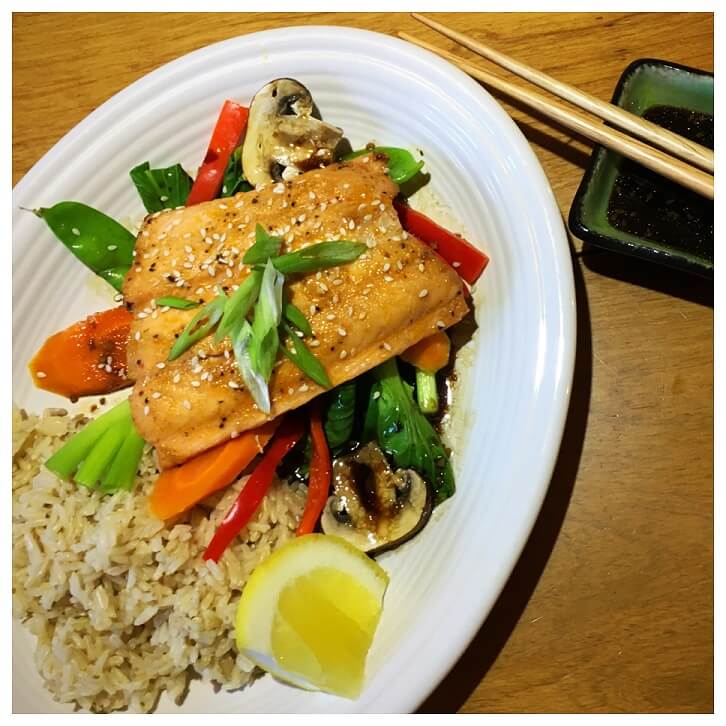 NO NAME® Steamed Salmon with Asian Vegetables and Lemon-Soy Sauce
Eating fresh and light is simple with No Name Brand Salmon Filets. Salmon is a great choice of protein for those who are counting calories, or just want to get a dose of heart-healthy omega-3 fatty acids!  Pair it with a low-fat cooking method like steaming, and this will be a recipe you visit again and again.  Serve with organic brown rice for a delicious and nutritious meal!
No Name Salmon Filet Preparation:
In a large sauté pan with a light fitting lid, heat the olive oil over medium heat. Add the garlic and ginger. Cook until fragrant, about 1 minute.
Add the water and bring to a simmer. Add the vegetables to the pan all at one time and spread evenly throughout the pan. Place the No Name Salmon Filets on top of the vegetables in the pan.  Make sure the filets do not touch one another. Cover the pan tightly with a lid and reduce the heat to a low simmer.
Allow the fish to cook on top of the simmering vegetables, covered, for about 8-10 minutes, or until the fish is cooked through. You may add a bit more water, if necessary.
Once Cooked, remove the pan from the heat and serve. Using tongs, place the vegetables onto a plate and gently serve the No Name Brand Salmon Filet over the top.  Spoon the Lemon-Soy Sauce over the top of the fish.
Garnish with Fresh Green Onion slices and serve with steamed rice.
Enjoy!
Prepare the Lemon-Soy Sauce:
Mix all ingredients thoroughly.
No Name Salmon Filet:
2 each No Name Brand Salmon Filets, defrosted
1 tbsp. olive oil
1 garlic cloves, minced
1 tsp. fresh ginger root, peeled and minced
1 cup water
2 each baby bok choy, cut in half lengthwise and cleaned
10-15 snow pea pods
1 red bell pepper, cored and cut into julienne slices
1 medium carrot, peeled and sliced on the bias into ovals
1 tsp. sesame oil
fresh green onion, sliced, for garnish
Lemon-Soy Sauce:
½ cup soy sauce
2 tbsp. apple cider vinegar
1 fresh lemon, zested and juiced
1 tbsp. sesame oil
½ tsp. garlic, minced
½ tsp. ginger, minced
1 tsp. sugar
pinch of pepper