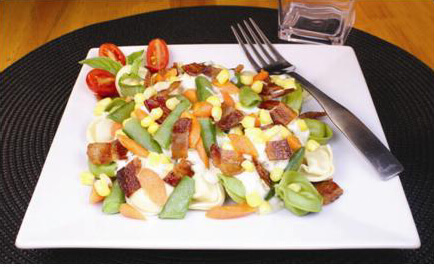 No Name® Bacon and Three Cheese Tortellini
Directions:
Prepare bacon according to the package directions.
Cook the pasta in boiling water according to package directions.
Drain the cooked pasta and then set it aside as you cook the rest of the ingredients.
To a medium hot saute pan, add the carrots, snap peas and corn.
Cook for 1 1/2 – 2 mins.
Add the Alfredo Sauce and the basil Pesto and heat for another 1-2 mins.
Add the pasta and cook just until heated through. Top with fresh basil and serve.
Makes 2 servings
Ingredients:
8 Strips No Name® Bacon
1 Pkg. (10 oz.) Three Cheese Tortellini (found in the Dairy section)
1 Cup Alfredo Sauce
4 tsp. Basil Pesto
1/3 cup baby Carrots – bias cut, thin
1/2 cup Snap Peas – fresh or frozen, cut in half
1/4 cup Corn (use frozen)
3-4 Basil Leaves, fresh