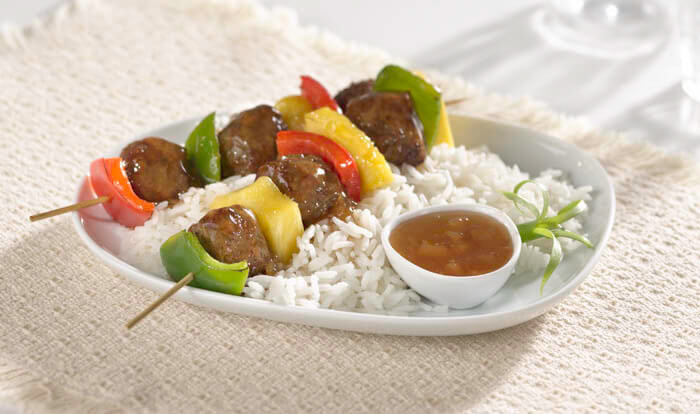 No Name® Sweet & Sour Meatball Kabobs with Pineapple
Directions:
Preheat oven to 375 degrees.
Cut the pineapple into bite-sized pieces.
Alternatively string onto the skewer a piece of bell pepper, meatball, pineapple, meatball, pepper, meatball, and pineapple. Continue until all meatballs are skewered.
Place on a baking sheet, brush lightly with sweet and sour sauce and bake for 15 minutes.
Serve skewers on a bed of warm rice and drizzle with warmed remaining sauce.
Garnish with chopped green onions.
Variations:
Have a favorite marinade or sauce? Try using BBQ sauce, Jerk grilling sauce or Peanut Sauce as an option.
General
Serves 4
Preparation time: 10 minutes
Cooking time: 15 minutes
Ingredients:
8 (8") Bamboo Skewers, soaked in water for about 30 minutes
24 No Name® Meatballs (Original or Wild Rice), thawed
1 Pineapple, cored and peeled (prepared in the produce department)
1 Green or Red Pepper, cut into 1" pieces
1 (13-14 oz.) bottle Sweet & Sour Sauce
6 cups White Rice, cooked
½ cup Green Onion, chopped finely (optional)